Sublimation
is the best choice for team uniforms and custom sports apparel.
Sublimation printing is the process of transferring dye to a fabric using heat. The image is printed on special transfer paper and placed on the fabric and heat is applied, allowed the ink to become part of the fabric. This will leave you with a more breathable, soft feel to the fabric. The best part is that the numbers, letters and graphics do not peel off!
Some apparel decorators call it dye-sub, or dye sublimation printing, but no matter what you call it, sublimation printing is a versatile, digital printing method that opens up a world of opportunities to any consumer of decorated 
Dye sublimation is a process of printing (as well as other substances) that provides the best quality, most durable printing option. In sublimation, the inks are fused into the fabric as opposed to sitting on top of the fabric such as in inkjet or screenprinting. This process not only gives fabrics a softer touch after the printing but it is also very durable. The colour remains strong in outdoor lighting and after extensive washing so it's the ideal process for sportswear and school clothing.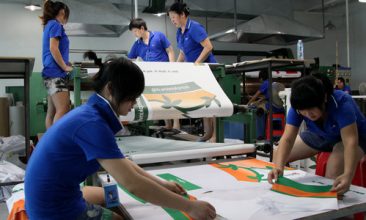 Advantages of Sublimation
Unlimited colors with no added cost
Produces vibrant colours, making it perfect for photographic images.
Ability to create complex all-over print designs on the front and back of your garment.
You can't feel the print at all, it gives the fabric a soft-like feeling.
Sublimation print will not crack, peel or fade.
Enhance your garment by adding a heat transfer such as rhinestones, hot fix glitter or foil.
Never go out of style. Because sublimated jerseys are custom made, there is no need to worry about uniform being discontinued next season. It is also easy to reorder from us in the future as we will keep your design on file.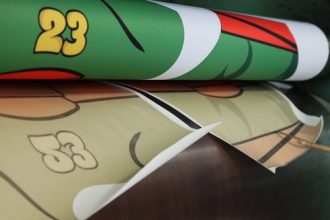 There are many benefits thanks to the sublimation process.
Full colour on small runs. Unlike screen printing, there is no need for seperate screens, films or a great deal of setup for sublimation. Though you may well need to have us refine your art, the process thereafter is straightforward, and on smaller orders may prove less expensive overall than screen printing.
Less need for minimum orders. We are more likely able to accomodate a smaller order or re-order when you sublimate, due to the reduced amount of setup required to print your product.
Individual Customization. Though art charges may apply for this level of customization, seeing as each garment is printed from it's own transfer rather than en masse on the same set of screens, this method makes it much easier to add individual customization to each printed item.
Lighter hand. The nature of sublimation means that prints are never heavy or thick. The garment is unchanged by the process, save for the addition of your art.
Durability. There is no cracking or peeling in a sublimated print, they last just as long as the garment.